Welcome to the DCMN recruiting process!
This page is designed for everyone interested in joining us at DCMN. We want you to feel comfortable and confident throughout the entire process. If there is something on your mind that we aren't answering here, please don't hesitate to get in touch!
Our recruiting process
We generally follow up three step process:

1 | Video interview with a member of the People Team

Just to get to know each other: Learn about DCMN & our culture, and introduce yourself and your background.

This video call last for around 30 minutes.

2 | Expert interview

This is where you'll show off your chops. You'll discuss skill-based questions with an Expert in your area of expertise, and it's time to meet your future Team Lead to speak about the role, responsibilities and growth opportunities.

This video call or personal meeting at one of our offices last for around 60-90 minutes.

3 | Onsite interview with optional case study

We're getting closer to the finish line: Get to know the team and clarify any remaining questions with the Team Lead. Meet all relevant stakeholders before a final hiring decision is made. For some roles, you'll present your solution to a short case study that you've prepared beforehand.

We usually invite you to one of our offices for this final meeting. A digital meeting can be arranged in some cases, too. The duration of your final interview varies depending on the role, but we'll let you know beforehand.

This really depends on many factors and the specific role, but usually it takes between 4-8 weeks. During your first interview, we'll explain the specific timeline for the role you've applied for and we will keep you in the loop regarding any changes.

We have collected a list of resources that might help you to learn more about DCMN, our company culture and our work:

A couple of tips & tricks we've learned along the way:

If we've scheduled a video call with you, you've received a calendar invite with a link to join the call. Easy! You might have to allow your browser access to your audio and video, so we recommend testing this once before your call. Easy!
We might also send you a link to Google Meet, especially if you'll be speaking to several people at DCMN. No need to install anything, just click the link and show us your best self.
There are two things we love: curious questions and specific examples. Don't hold back!
We want to meet you as you are, so please don't worry about dress code or any other formalities. We appreciate that you take the time to speak to us, and just want to learn who you are and what drives you.

Yes! For most roles, we are open to international applicants and do our best to help you with your relocation. We support you with all necessary documents and formalities.

We have implemented role-specific case studies to learn how you think, how you approach certain problems, and how you communicate your findings and decision making.

You will receive the case study in advance of your final interview so that you'll have enough time to prepare before presenting your solution to us. It's absolutely fine to reach out to your Recruiter if you have any questions or concerns regarding the task you've received. We're here to help you succeed!

We think it is important for applicants to meet their potential colleagues and get a feeling for how it would be to work together in a team. This meeting will be quite informal and will help you and us to find out if there is a fit with the team culture.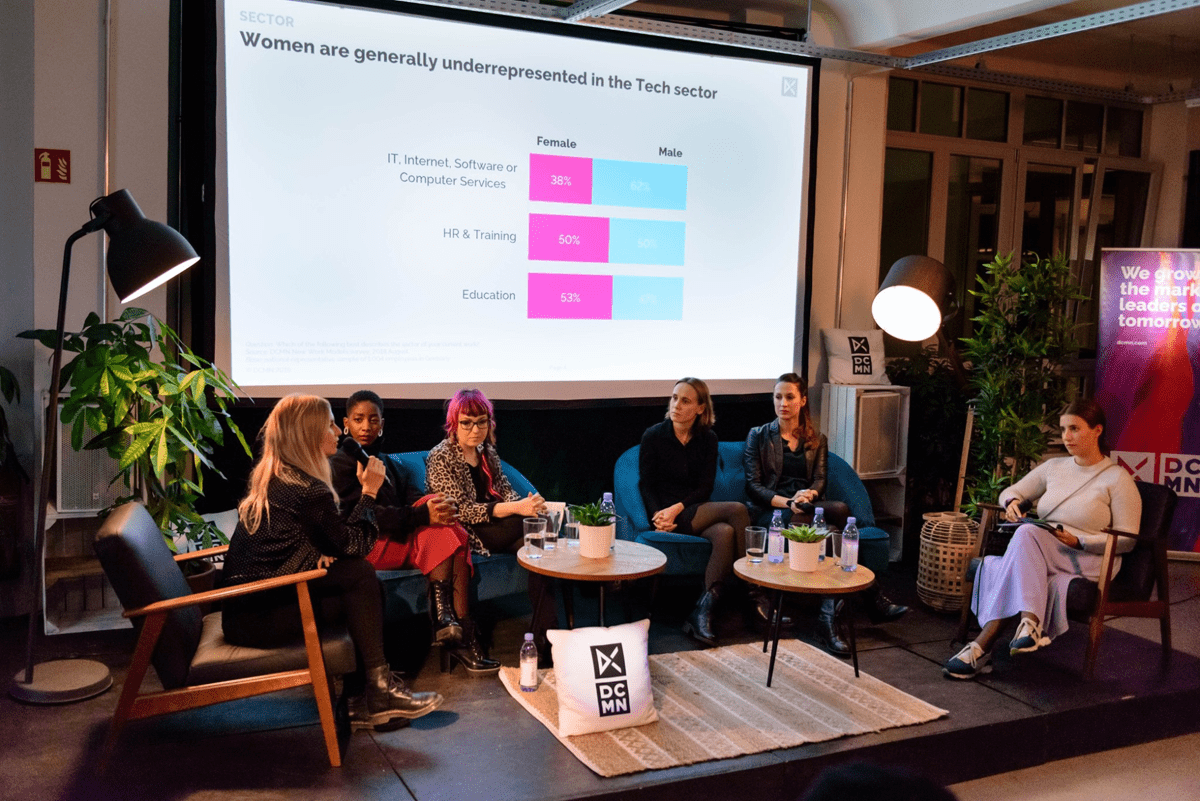 Life at DCMN
We take our work seriously, as we want to keep our customers as happy as possible. We find it important to deliver value and quality on time.

We find it essential that we keep up an open, friendly and informal environment where everyone is involved in decision making processes and takes ownership for their work.

Of course we don't hold back on the fun times either: You'll find plenty of opportunities to meet your colleagues, for example at team events or company parties.

We speak English, as you might have already guessed! You'll also hear German, French, Spanish, Italian, and several other languages, so if you're keen to learn something new, there's almost always someone who can teach you.

All of our offices have open floor plans, meeting rooms and enough space to focus and get things done.

We also have well-equipped kitchens with free coffee & tea, drinks and snacks.

Yes and yes! Currently, due to COVID-19, most employees work from the office around 2 days per week and spend the rest of the work week at home. We closely follow local regulations and adapt accordingly. We also had the option of home office work beforehand, so it's here to stay.

You choose when and how you work best - in collaboration with your team. Most of our employees are scheduling their working hours between 8:00 and 19:00.

We believe personal development and growth is one of the most important things! We provide our employees with a personal learning & development budget that they can spend on courses, conferences, books, or really any other resource that you can think of to grow within your profession. We also have developed a career path for every role and are great supporters of internal promotions.

You also have the chance to attend seminars or speak during the Meet-Ups we host.

Once we've decided to work together (Yey! 🎉) we'll get in touch about your first day at work, the equipment you need and any support you require with relocation (if applicable). We'll also connect you with your Team Lead for any questions.

Sit back, relax and get excited for your new adventure! 😉

Once your employment contract is signed, we will get in touch with you to get you set up for your first day. You'll receive a schedule ahead of time. Your first two weeks will include several workshops that introduce you to DCMN as a company, and teach your the "how tos" around here. You'll also become a part of your team from day 1. Specific team members will ensure you learn the tools and processes needed for your role.